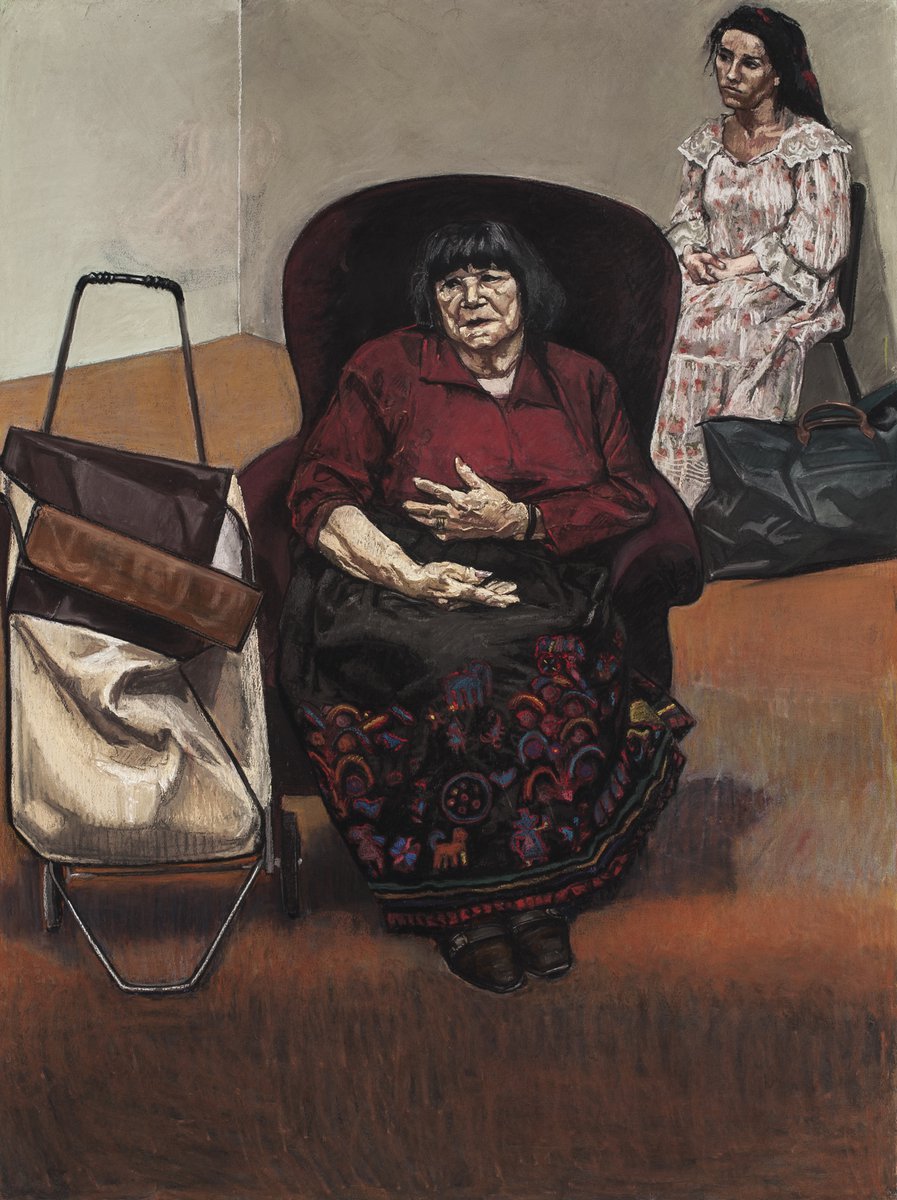 In tribute to the life and work of Paula Rego, who passed away early this month on the 8th of June, the Collection Caixa Geral de Depósitos chose to highlight the work The Granddaughter, 1998. The undisputable quality of her artistic work over six decades was verified in numerous individual and group exhibitions around the world in museums, such as: Tate Britain, London; Picasso Museum, Malaga; Tate Liverpool; Museo Nacional Centro de Arte de Reina Sofía, Madrid; Museum of Women in the Arts, Washington; Musee de l'Orangerie, Paris; Museo de Arte Contemporánea, Monterrey, Mexico; Pinacoteca de São Paulo; The Metropolitan Museum of Art and MoMA, New York; The Art Institute of Chicago; and Yale Center for British Art, New Haven.
Between 1952 and 1956 she studied at the Slade School of Fine Art in London, where she became acquainted with the English school of painting and met her future husband, painter Victor Willing (1928-1988). From an early age, her painting shows a penchant for delirious and perverse narratives. While in the beginning her works were mostly characterized by collage of large masses of colour, deformed anatomical shapes, and lines and brushstrokes of huge eloquence, from the 80s on, the anatomy human bodies, the three-dimensionally defined spaces and the expressiveness of the human figure becomes more realistic and intense.
The painting The Granddaughter, 1998, belongs to this stage in her work. An older female figure, the grandmother, is seated centre stage in an armchair with a shopping cart at her side. In the background sits another female figure resting on a chair with a handbag. Their absentminded looks mirror the emotion of the two women and the melancholic depth of their faces, tells of a heavy unknown history. It is in these stories, some of which are international literary references, that the artist's work proved to be more pertinent and sarcastic, often addressing social and political feminine issues, such as abortion, power, matters of principle, modesty and family. More recently, her drawing has become more open and free from convention, reaching a freedom that will echo forever.
She was made a Grand Cross of the Order of Saint James of the Sword by the President of Portugal in 2004. In the 2010 Queen's Birthday Honours she was made a Dame of the British Empire for services to the Arts. She received the Medal of Honour of the City of Lisbon in 2016, and in 2019 she was awarded the Portuguese government's Medal of Cultural Merit and the Lifetime Achievement Award from Harper's Bazaar.
Paula Rego
The Granddaughter
1998
Pastel on paper mounted in aluminium
158 x 148 cm
Inv. 876320
Search Collection