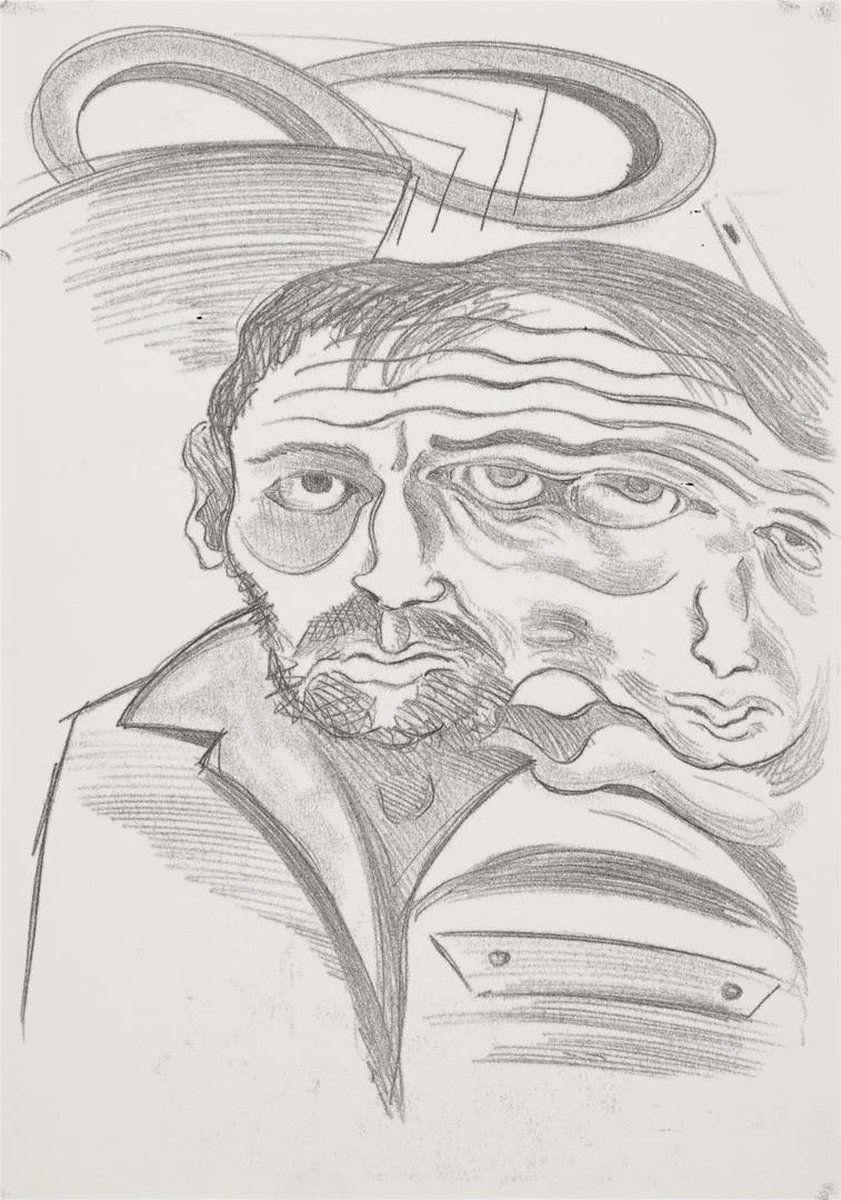 The drawing As antonomásias. Aquele é exactamente semelhante a mim; como o é Velho Sapato, 2019, by Mattia Denisse, a work that belongs to the Collection Caixa Geral de Depósitos, is currently on loan to the artist's anthological exhibition entitled Hápax. The show, curated by Anne Bonnin, is open at Le Grand Café – Centre D'Art Contemporain, Saint-Nazaire, France, until 30 April 2023, and follows the exhibition with the same title, curated by Bruno Marchand, that was presented at Culturgest in 2022.
This drawing is on display together with other drawings from the same series, which were recently added to the Collection CGD. Drawings from the Húmus series, 2021, were added to the artist's works that were already part of the Collection. During the acquisition process, the artist donated 8 monotypes from the Monte Análogo series, 1984. These artworks are also on loan to the exhibition in France.
The artist's singular work is mirrored in his drawings' inventiveness, humour, surrealism and irreverence quality, which characterize every single series from the very beginning. According to Bruno Marchand: "Mattia Denisse's work is a cadavre exquis made hand in hand with the other world. They both write and draw on each new fold, on a single side of the same sheet." (in Cata Log Cat Strofe, Ed. Dois Dias/Culturgest, 2022). This tension seems to settle "the riddle about comprehending the world" and that leads Catarina Alfaro to ask: "are things the way they are (in spite of how we see them) or is reality infinitely unachievable and mysterious?" (in Duplo Vê – O Tautólogo, Lisbon: Ed. Dois Dias, 2017; published in the occasion of the exhibition with the same title at Casa das Histórias Paula Rego, in 2016).
Mattia Denisse's link with literature is tangible in his drawings' narrative. In the series As antonomásias, it appears as a self-figuration that solidifies a fiction about "his solvent faces" (Celso Martins, Expressso, 07/15/2022). According to Ciberdúvidas, quoted in the exhibition catalogue Cata Log Cat Strofe, antonomasia is a figure of speech that "consists in replacing a common name with a person's proper name or, on the contrary, a proper name that includes a certain set, universally recognized, of personality traits". As Drawing itself, this re-naming "is a little on the fringes, a space where I feel at ease", the artist tells Catarina Rosendo (in «O Erro como Lugar da Verdade», Contemporânea, Ed. 07.08.09/2022). In this interview, the artist also says that self-portraits "often come out when I no longer have ideas. A place I go back to when I have nothing to draw. They are a focus point that is always available… myself." Like self portrayed characters, Mattia Denisse's drawings tell, in writing, aspects of his own story.
Born in Blois, France, in 1967, Mattia Denisse chose to live in the city of Lisbon, Portugal, in 1999. His biography often mentions his constant travels and his keenness to explore different places, especially in the European and African continents and Brazil. ZDB, Lisbon, 2007 and 2011, Hangar, Barcelona, ​​1999, and FAAP, São Paulo, 2013, stand out among the many artistic and literary residences he has taken up. He got a scholarship from the Calouste Gulbenkian Foundation in 2011. Along with Cata Log Cata Strofe and Duplo Vê, so far the artist has published five other books: Logo depois da vírgula (Mattia Denisse/Barbara Says, 2011), Câmara de decompressão (Ed. Dois Dias, 2011), Compêndio de Geometria Clitoridiana (Galeria Bessa Pereira, 2014), Archiconto (Edições Tripé, 2018) and K contra K (Ed. Dois Dias, 2019).
Hugo Dinis
Mattia Denisse
As antonomásias. Aquele é exactamente semelhante a mim; como o é Velho Sapato
2019
Monotype on paper
51 x 36 cm
Inv. 683013
Search Collection