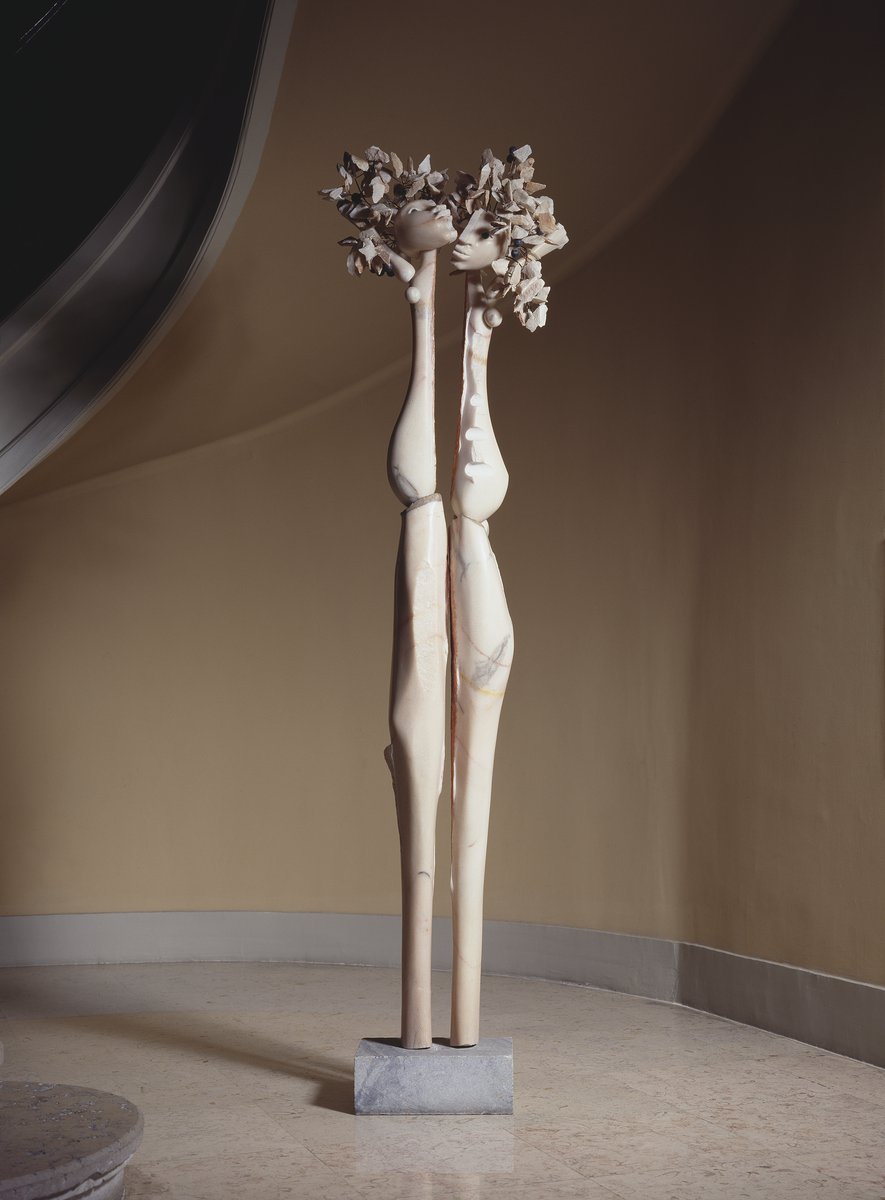 In tribute to the life and legacy of João Cutileiro, who passed away recently, the Collection Caixa Geral de Depósitos highlights a work that has been part of the Collection since 1987. Bífida rosa, 1986, a sculpture in pink and black marble, comprises two bodies with erotic forms that are true representations of the artworks the artist has created during the course of his career of more than 60 years. Cutileiro was born in Lisbon in 1937. He attended António Pedro's studio, between 1946 and 1948, where he came in contact with the surrealist world. He moved to Jorge Barradas' studio for the two years ahead, where he focused on painting and ceramic glazing.
Nonetheless, feeling discontented, he moved back to António Duarte's studio as a volunteer assistant, and began working with stone for the first time on foundations and as a stonemason. In 1951, at the age of 14, he showed sculptures, paintings, watercolours and ceramics in a sewing machine store in Reguengos de Monsaraz. He attended Escola Superior de Belas-Artes, Lisbon, studying under Leopoldo de Almeida, between 1953 and 1955. However, before finishing his studies and influenced by Paula Rego, he moved to London to attend the Slade School between 1955 and 1959. In 1959, he worked in Reg Butler's studio as an assistant. He remained in London until 1970, with a scholarship from Gulbenkian on two occasions (1958/59 and 1965/66). Upon returning to Portugal he settled in Lagos until 1985, and since then in Évora. In 1987, he organized and took part in the 1st International Symposium on Stone Sculpture with Manuel Costa Cabral and António Pedrozo. In 1990 the Fundação Calouste Gulbenkian presented an anthological exhibition of his work, coordinated by Hellmut Wohl and Nazaré Tojal. Among his controversial works of public art, the D. Sebastião statue in Lagos (1972), the 25th of April Monument (1997), Lago das Tágides (1998), Lisbon, and S. João (2000), Porto, stand out.
The sculptor produced works, mainly in stone, on subjects such as warriors, flowers, trees, historical and religious figures, feminine figures, torsos, nymphs, eroticism and architecture, among others. The bifid figures became the chosen motifs to create the languid and erotic forms of sexually charged bodies that split and touch each other in technically complex and precise moments. Hellmut Wohl noted that Cutileiro "understood that splitting the figure in two increased the depth of a given block and was also a way of exploring asymmetry in the symmetry of the human body" [WOHL, Hellmut; RIBEIRO, José Sommer (org.) and TOJAL, Nazaré (coord.), João Cutileiro, Centro de Arte Moderna, Fundação Calouste Gulbenkian, Lisbon, 1990]. The use of stone, marble, a polished raw material which can be handcrafted, allows for a plasticity and lightness that unveil a virtuous sculptor, one that is sensitive to the qualities of the natural resource he uses in his creations. In the sculpture Bífida rosa two figures show the underlying desire of two bodies, with no defined nor dominant gender, portraying carnal love. The small spherical elements and the hair, made to look like foliage, creates an impression of figures stretching as they change into visual and tactile poles, in a relevant rapport between monumental and domestic sculpture. By associating the peculiar scale of the long figures with small plinths, or with none in some instances, the artist questions the viewer's stance and triggers his own body's sensuality and desire. Ethereal love is attainable by all those who wish to participate.
João Cutileiro
Bífida rosa
1986
Pink and black marble
237 x 60 x 40 cm
Search Collection