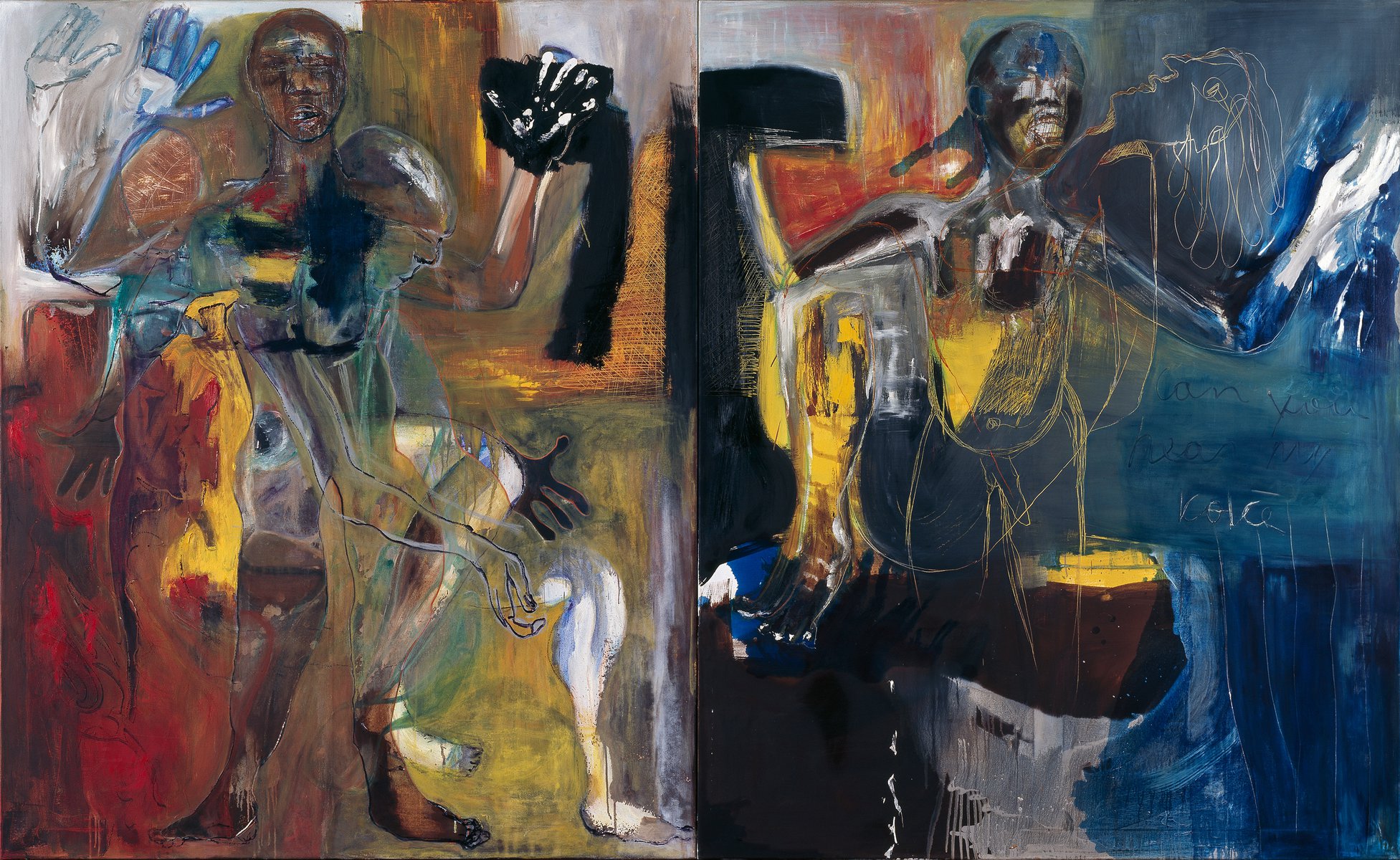 Desperate (2000), a work by Alex da Silva that belongs to the Collection Caixa Geral de Depósitos since 2003, stands out among the works on loan for the exhibition Dentro e Fora – Coletiva de Artistas de Cabo Verde, curated by Ricardo Vicente, at the UCCLA – Union of Portuguese-speaking Capital Cities.
Alexandre Carlos da Silva Barbosa Andrade was born in Luanda, Angola, to Cape Verdean parents on April 16, 1974. As a young boy he returned with his parents to Cape Verde. At the age of 19 he travelled to the Netherlands to study at the Willem de Kooning Academy in Rotterdam; years later, in 2000, he completed a postgraduate degree at the Minerva Art Academy in Groningen. He split his life between Rotterdam and Mindelo, Cape Verde, until his death on December 30, 2019. His path as an artist was dedicated to the fields of painting and drawing. However, his most emblematic work is Clave, a monument that commemorates the 150th anniversary of the abolition of slavery in the Netherlands, inaugurated in Rotterdam, in 2013.
His paintings revolve around humanity's social, political and historical condition. Drawing inspiration from his diaspora, he created narratives about his homeland as well as his state of being African. Notwithstanding, his identity was not limited to his place of birth. His paintings uncover an alleged Western education, influenced above all by Robert Rauschenberg and Jean-Michel Basquiat. This is how his work becomes odes filled with global and local references: an avid combination of two different worlds through the use of vivid colours, intense gestures and specific objects, among other elements. It is thus possible for the artist to paint the world as a whole and its inhabitants as a depiction of humanity. The painting Desperate (2000) can be construed along these lines. Two pairs of human figures are featured side by side in similar positions. The background male figure with open arms and the female figure resting on his lap – a reference to Pietà. The writing 'can you hear my voice' seems to echo a universal story, one filled with poetry and timelessness.
He founded Zero Point Art in the city of Mindelo, island of São Vicente, Cape Verde, in 2009. The multi-purpose art centre has become a cultural reference, particularly with reference to its Music, Film and Visual Arts programme.

Hugo Dinis

Alex da Silva
Desperate
2000
Acrylic on canvas
170 x 280 cm
Inv. 566468
Search Collection