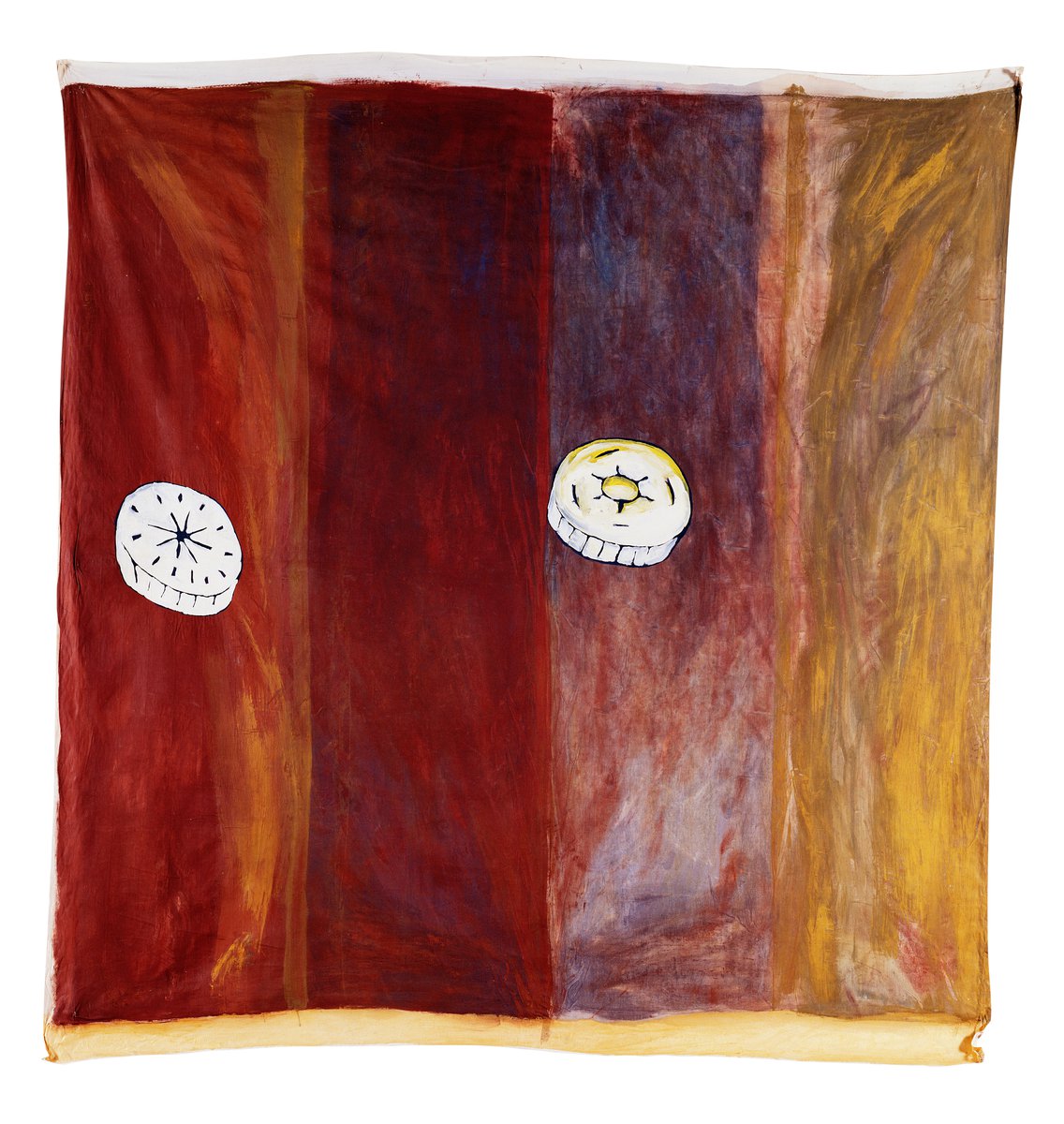 Cara e Coroa (1984), a work by José Leonilson Bezarra Dias that belongs to the Collection Caixa Geral de Depósitos since 2001, was one of the highlights of the exhibition Pequenos Fogos: José Leonilson e Tomás Cunha Ferreira that took place at Brotéria – Associação Cultural e Científica, Lisbon, until 26 February last.
Born in Fortaleza in 1957, he moved to São Paulo with his family in 1961, where he started studying at Fundação Armando Álvares Penteado (FAAP) between 1977 and 1980. He travelled in Europe in the early 80s, 1981-82, and became acquainted with the international artistic scene. From then on, his career advanced in the fields of painting, drawing and sculpture, taking part in international exhibitions in Europe as well as in the United States. He tested positive for HIV in 1991, an incidence that impacted his work, turning it darker and more politically drawn. The body, his own body, will henceforth become part of his aesthetic concerns. He died two years later, in São Paulo, at the age of 36. That same year, the Leonilson Project, dedicated to recording, researching, archiving, curating and disclosing his immense legacy, was founded by friends and family.
His work is inherently connected to his personal experience – "The outside world does not exist, he says. What we look for is inside us" (Felipe Chaimovich, 1991). In another interview, he adds: [the works] "were totally personal, subjective; it was a diary, but my conversation was much more unfocused, you know?" (Ivo Mesquita, 1997). In a diary-like manner, he uses small signs or symbols as notes of different secret and mysterious meanings, thus illustrating his daily life in an artistic manner.
In the early 1980s the artist returned to the joy of painting via the use of vibrant colours, light forms and humor; something that "comes across by conveying a cheerful, colourful and ironic message" (Lisette Lagnado, 1995). This is quite evident in the painting Cara e Coroa (1984). Depicting two sides of the same coin may hint at luck and fate. These uncertainties and secrets are at the root of viewers' questions. To read, to reread, to decipher, to inquire, are words that belong to the artist's lexicon. By building his very own language, sometimes unintelligible, others private, the artist attempts a universal and discernible expression not only because such image, event or object is recognizable, but because it is sensed by way of authentic and ambiguous experience. "Ambiguity is a key word in Leo's discourse, and it is followed by problems and dilemmas." (Adrian Pedrosa, 1995).
Hugo Dinis
Leonilson
Cara e Coroa [Heads and Tails]
1984
Acrylic on canvas
219 x 212 cm (220 x 234 cm)
Inv. 534009
Search Collection