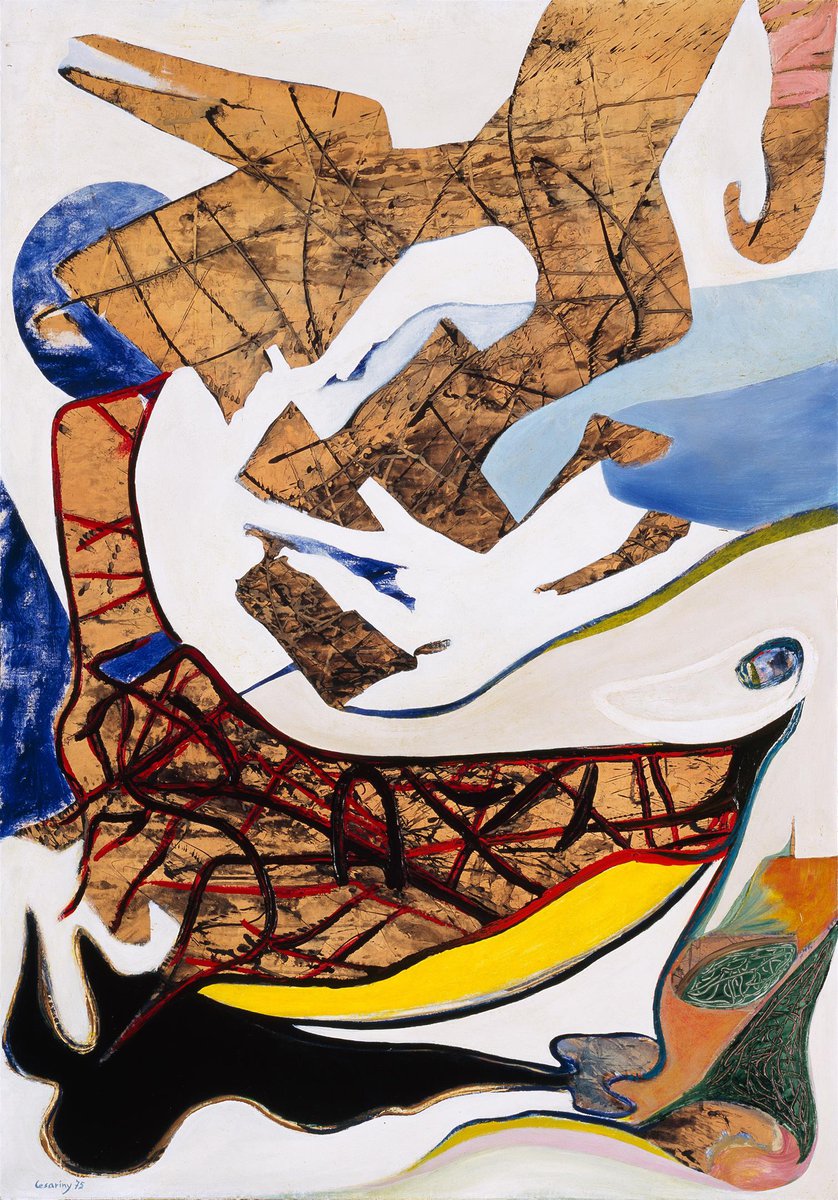 Following the loan of the work Ishmael's Mirror (or Room painting for a window with no wall) [Moby Dick series], (1975) by Mário Cesariny (Lisbon, Portugal, 1923 – 2006), we would like to draw attention to this work from the Caixa Geral de Depósitos (CGD) Collection, which is part of the exhibition Mário Cesariny's Surrealist Castle, curated by João Pinharanda, Afonso Dias Ramos and Marlene Oliveira, at MAAT – Museum of Art, Architecture and Technology, in Lisbon, running from 5 October 2023 to 19 February 2024.
Cesariny's work marked the Portuguese art scene from the outset. Between 1936 and 1943, he attended the António Arroio School, where he met his fellow Surrealists in Portugal, in particular Cruzeiro Seixas, Pedro Oom and Marcelino Vespeira, among other artists of his generation. In 1947, he travelled to Paris and attended the Académie de la Grande Chaumière. In Paris he came into contact with André Breton, among other surrealist artists, and on his return to Lisbon he founded the Lisbon Surrealist Group together with António Pedro, José Augusto França, Cândido Costa Pinto, João Moniz Pereira and Alexandre O'Neill. Meeting at Pastelaria Mexicana, the group emerged both as a protest against the Neorealist movement, controlled by Portuguese Communist Party ideology, and as an opponent of the Estado Novo regime. Cesariny later founded the dissident group Os Surrealistas [The Surrealists] with António Maria Lisboa, Risques Pereira and Mário-Henrique Leiria, among others.
From the 1950s onwards, Cesariny was monitored by the Criminal Police and regularly interrogated by the authorities due to his open homosexuality. This aspect of his life is significant as it was reflected in his work, through the figure of the sailor as homoerotic desire, which was particularly influenced by Herman Melville's Moby Dick (1851). The painting 'Ishmael's Mirror' (1975), from that series, features abstract planes that emphasise languid forms and sensitive textures. In the small organic approximations one can detect the various layers of paint being transformed into maritime modulations, which are also evident in the colours used. Ishmael, in a biblical sense, represents the ostracised, the orphans and the exiles, those who have no family, and in this sense, considering the heterocentric family tenets faced by the artist at the time, we are confronted by a painful and tension-filled painting, fluctuating between the waves and the whale that restrict the figure and the gestural and textured planes that free him.
In 1964, Cesariny received a grant from the Calouste Gulbenkian Foundation to write the book Vieira da Silva / Arpad Szenes ou o Castelo Surrealista [Vieira da Silva / Arpad Szenes or the Surrealist Castle], published in 1984. In 2004, Miguel Gonçalves Mendes made the documentary Autografia, in which Cesariny speaks directly about his intense private life. It also highlights his extensive and important literary work, in poetry as in essays and fiction.
Hugo Dinis
MÁRIO CESARINY
Ishmael's Mirror (or Room painting for a window with no wall) Moby Dick series
1975
Acrylic and collage on canvas
102.2 x 170 cm
Inv. 275511
Search Collection