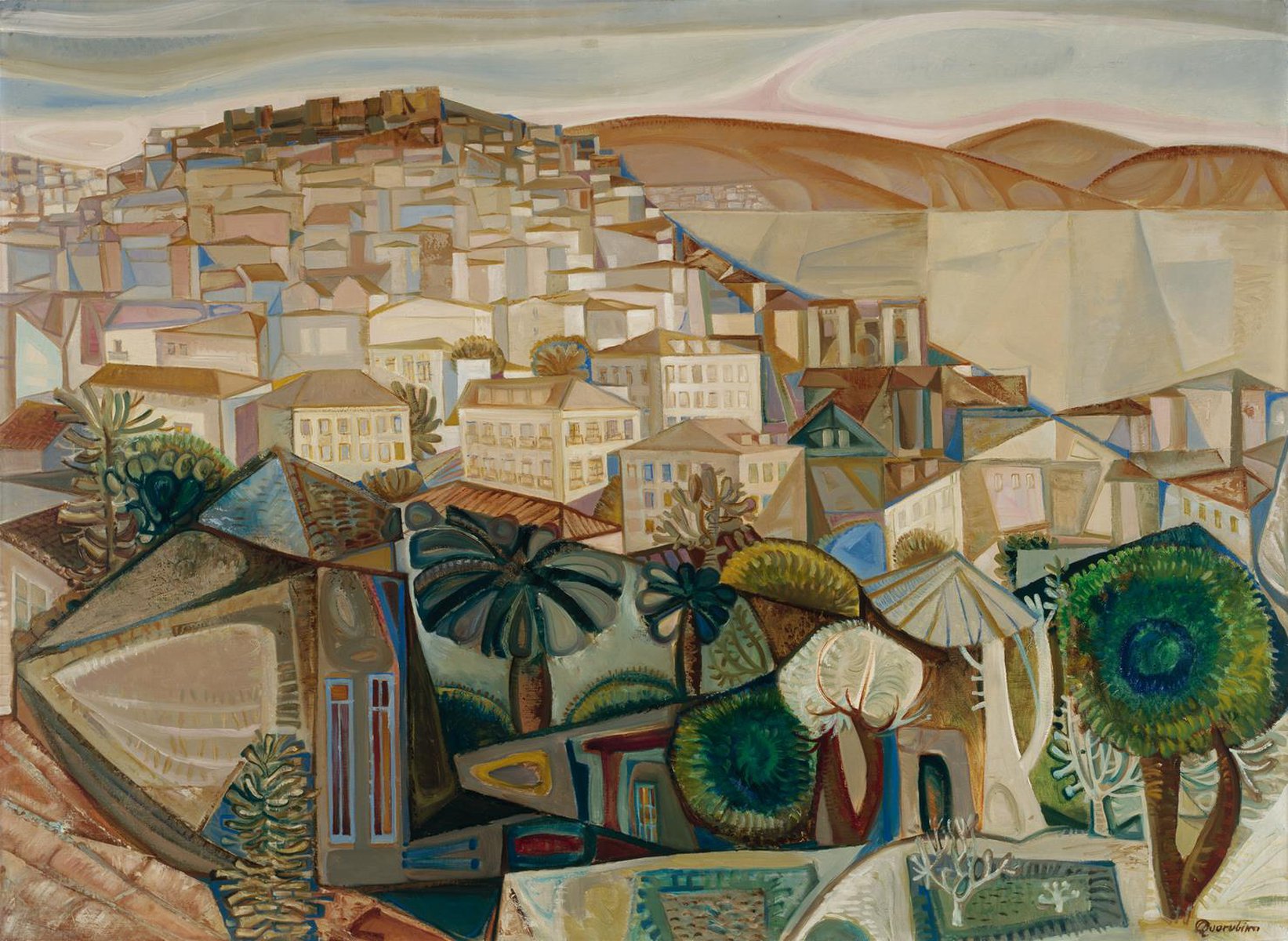 The painting Lisboa, 1956, by Querubim Lapa is Collection Caixa Geral de Depósitos' current highlight as it is on loan to the exhibition Querubim Lapa: a neorealist poetics curated by David Santos. The show is open at Museu do Neo-Realismo, Vila Franca de Xira, between 24 June and 29 October 2023.
Querubim Lapa was born in Portimão in 1925. Having joined the António Arroio School of Decorative Arts, Lisbon, in 1942, he later studied sculpture at Escola Superior de Belas-Artes, Lisbon, between 1947 and 1950, and subsequently in Porto until 1953. In the beginning his pictorial work echoed his interest in Neo-Realism. He began working as a ceramicist at Viúva Lamego tile factory in 1954; there he started to work with elements of greater abstract and surrealist quality. Lisboa, 1956, acquired for the Collection CGD in 1985, is a painting that seems to occupy three aesthetic dimensions at the same time: Neo-Realism, Abstractionism and Surrealism. By depicting the city's buildings in a simple and cold manner, the painting seems to exhibit the arid pictorial surfaces of Neo-Realism. The scarcity of shaping and pictorial means signifies a rapport with the countryside and with the underprivileged in Lisbon society. On the other hand, the geometric setting of the buildings and the thick layers of paint on the greenery seem to bring the painting closer to Abstract art. Finally, the surrealist aspect is apparent in the trees' delirious languid forms.
The artist was a founding member of Gravura – Cooperative Society of Portuguese Engravers, in 1956. His artistic recognition is, nonetheless, above all associated with his important work as a ceramicist, namely the public urban ceramic panels for: Centro Comercial do Restelo, Lisbon (1954); the Rectory of the University of Lisbon (1961); Avenida da Índia, Lisbon (1994); the Lisbon Underground Bela Vista Station (1998). He also created impressive ceramic works for private spaces in Lisbon, such as, the Ritz Hotel (late 1950s); Loja das Meias (1960); and Pastelaria Mexicana (1961).
He was awarded the honour of Grand Officer of the Military Order of Saint James of the Sword in 2015. Querubim Lapa died in Lisbon on May 2, 2016.
Hugo Dinis