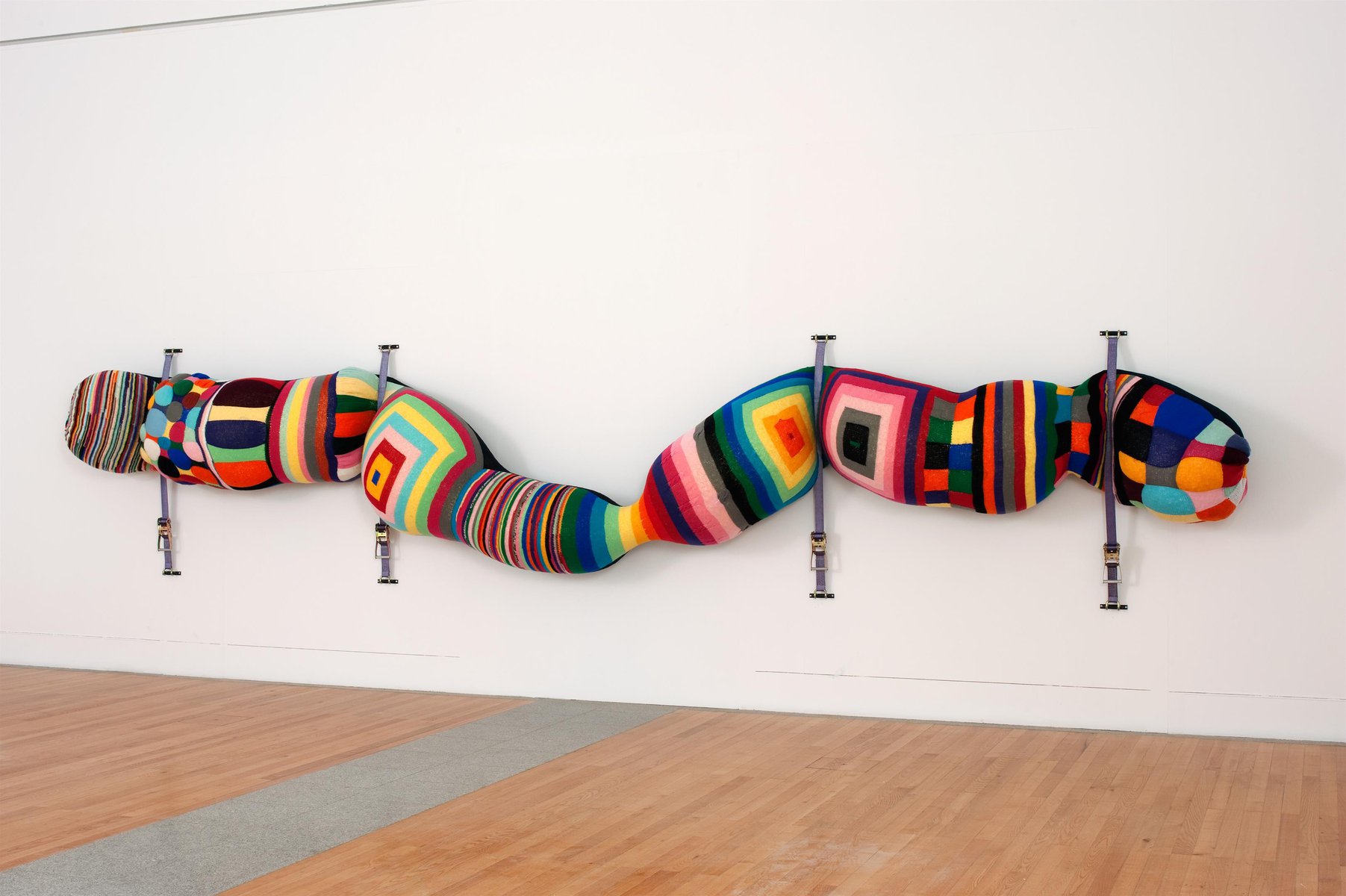 Collection Caixa Geral de Depósitos is highlighting Pantelmina 1, 2001, by Joana Vasconcelos, one of the most relevant works in the Collection, which is currently on loan to the artist's solo exhibition Le Jardin d'Éden curated by Siegrid Demyttenaere. The show, opened at Maison Folie Wazemmes, Lille, France, from May 14 to the 2nd of October 2022, is part of Utopia – 6th thematic edition of lille3000.
The artist's prominent artistic career began in the 1990s. Using a Pop language, either by turning to a range of everyday materials – dusters, plastics, socks, brushes, chairs – or via a playful and artisanal approach, the artist questions the conflicting rapport between popular art and handicrafts with erudite contemporary art and industrial work. This clash is activated by changing the objects' purpose and the concepts used, a game played on the viewers' perception and life experience.
Pantelmina 1 uses traditionally feminine wool knit handicraft to produce a giant toy that hangs on the wall, and to question the role of women in society based on three premises: motherhood, sexuality and work. Motherhood seems to spring from the different colours and shapes of the object. If, on the one hand, the colours seem to summon the Minimalism and Abstract Art movements' manhood – considering the absence of women artists –, on the other, they also echo a childish and educational universe. Sexuality seems to be associated with the work's volumes and languid shapes, which make it awkwardly erotic. And, finally, economy seems to regard women's work as manual and unskilled. Women's work is viewed as domestic and private, whereas men's work is seen as public. Joana Vasconcelos' work debates this dichotomy: as much as it keeps to the precision of the wool knitting skill, to children's colours and shapes and to the feminine rounded forms, it also clings to the male phallic form, to abstract colours and shapes and to the monumental size of the piece. In this sense, both dimensions – feminine and masculine – question each other, and in both ways, thus signifying how impervious [historically and socially] preconceived concepts of gender really are.
Pantelmina 1, has been shown in several national and international institutions, such as: Fundação EDP (2001), Passage du Désir, BETC RSCG, Paris (2005), Centro Cultural de Belém (2010), and IVAM-Instituto Valenciano de Arte Moderno (2019).
Hugo Dinis
Joana Vasconcelos
Pantelmina 1
2001
Handmade woolen knitting, industrial knitted fabric, polyester, ratchet strap clamp
70 x 1000 x 70 cm
Inv. 536070
Search Collection