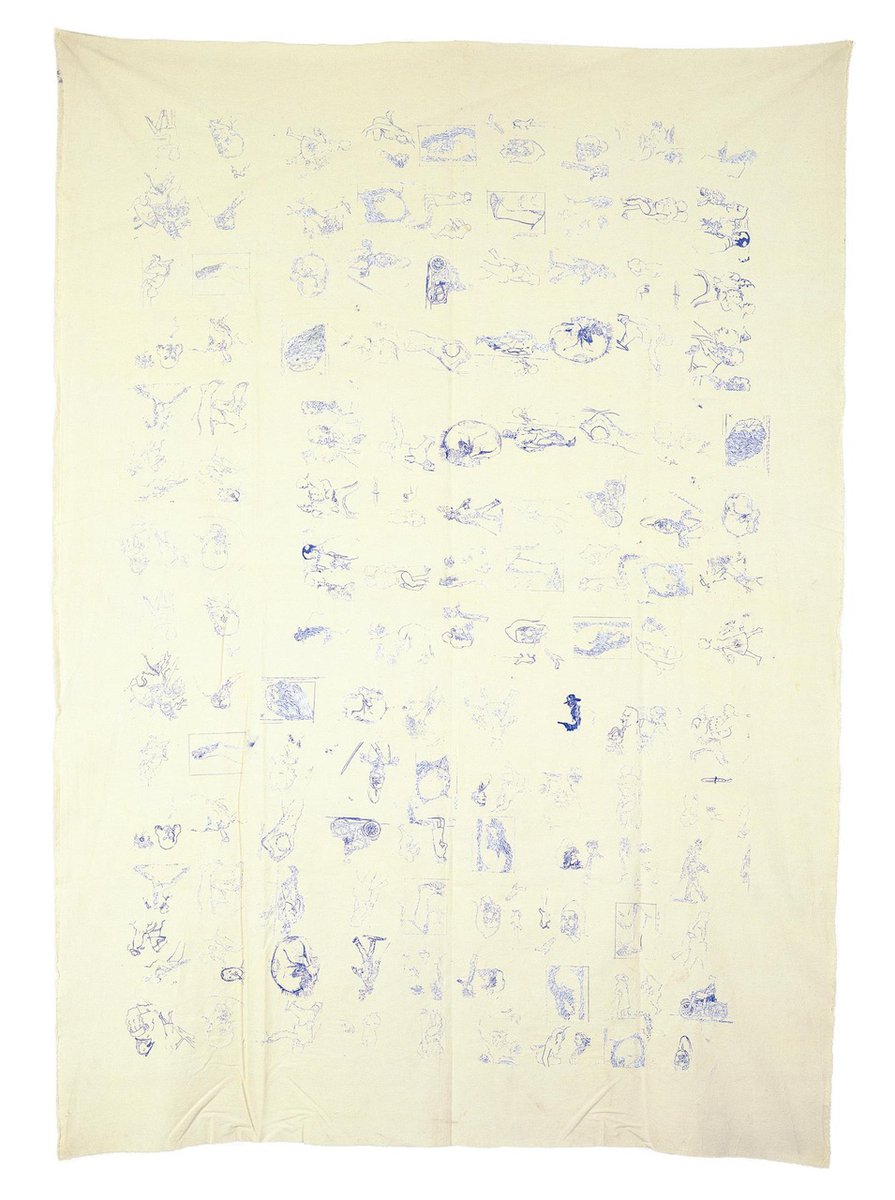 No âmbito do empréstimo da obra Sem título (1993) de Ana Jotta (Lisboa, Portugal, 1946) destaca-se esta obra pertencente à Coleção da Caixa Geral de Depósitos (CGD), que integra a exposição Ana Jotta. Never the Less, com curadoria de Anthony Huberman e Miguel Wandschneider, no The Wattis Institute for the Contemporary Art, em São Francisco, E.U.A., de 7 de setembro a 11 de novembro de 2023.
O trabalho de Ana Jotta tem-se multiplicado em diversos meios e técnicas, desde as disciplinas consideradas 'nobres' como a pintura, o desenho ou a escultura, até à utilização de bordados, objetos encontrados ou outros acasos. Neste sentido, as coisas com que trabalha são transformadas num universo idiossincrático que, com ironia e cinismo, questionam o meio artístico em geral, e os processos criativos em particular. Em muitos trabalhos a artista mistura mais do que uma técnica, mas não se trata apenas da fisicalidade das coisas, as relações também se estabelecem muito livremente no campo dos significados dos materiais e, também, das imagens que representam. A leitura polifónica de uma realidade fragmentada em vias de diluir os seus propósitos e vontades parece ser uma aproximação suficiente, ou pelo menos aceitável, para o entendimento de uma obra tão complexa quanto aparentemente simples.
A obra Sem título (1993) não escapa às premissas que a artista tem desenvolvido, nomeadamente na relação entre técnicas – serigrafia e bordado – e na utilização e intervenção de objetos do quotidiano que fazem parte da sua coleção compulsiva. A banalidade de um lençol bordado com determinados desenhos despoleta desenhos similares serigrafados: pequenas figuras em situações banais. Este processo de apropriação e cópia transforma a obra em algo único, que confunde o observador sobre a sua unicidade e originalidade. É neste jogo de cumplicidade que as obras de Ana Jotta se situam. Entre uma autoria dissipada e uma autoridade em potência, deixando a liberdade de entendimento na responsabilidade de cada observador.
Ana Jotta nasceu em 1946, em Lisboa, cidade onde vive e trabalha. Estudou na Escola Superior de Belas-Artes de Lisboa e, posteriormente, na École Nationale Supérieure des Arts Visuels de La Cambre, em Bruxelas. Em 2013 é-lhe atribuído o Grande Prémio EDP/Arte. Em 2005, o Museu Serralves organiza a exposição retrospetiva Rua Ana Jotta, com curadoria de João Fernandes e em 2014, a Culturgest realiza a exposição antológica A Conclusão da Precedente com curadoria de Miguel Wandschneider.
Hugo Dinis