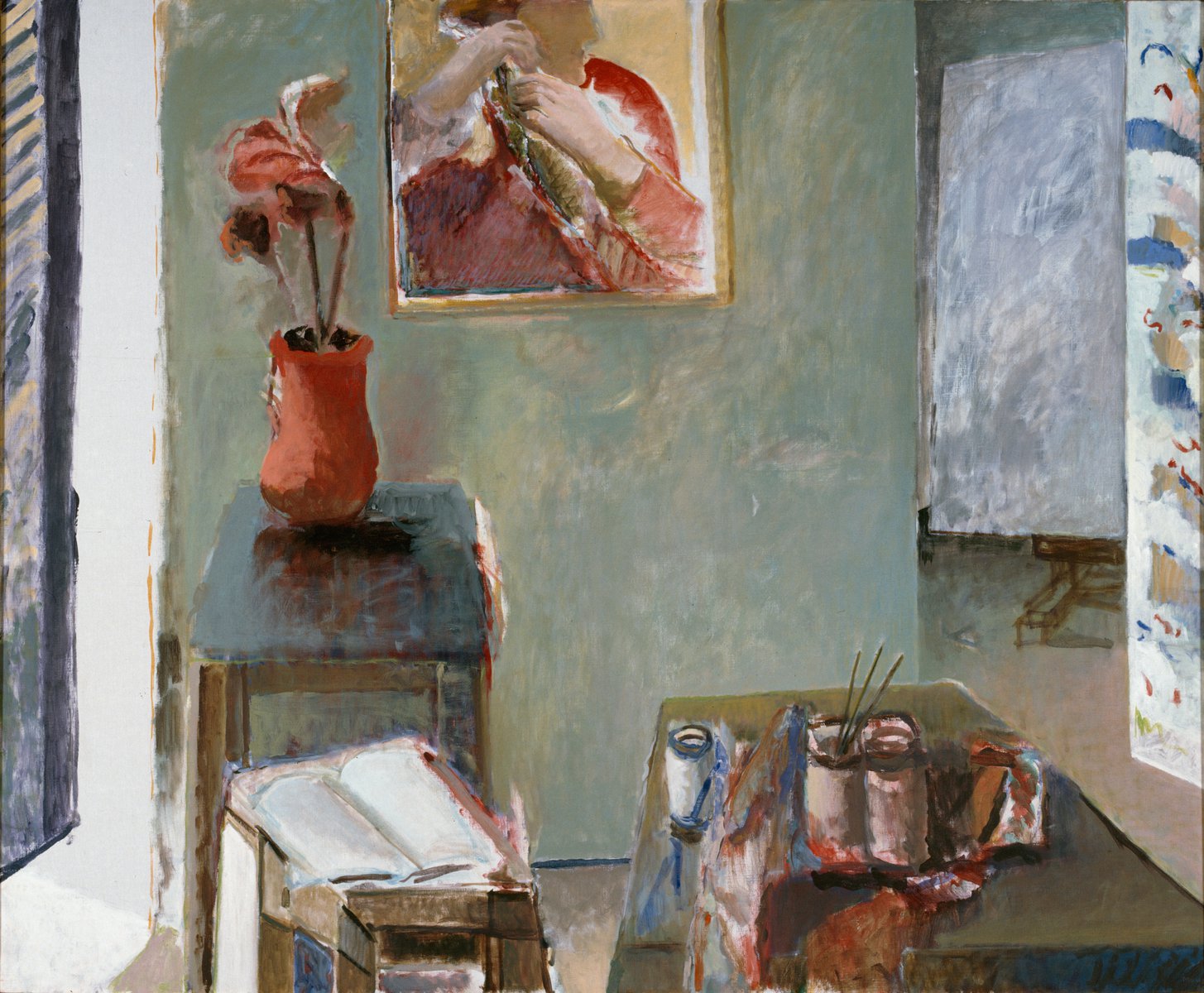 The work Untitled, 1986, a painting by Menez that belongs to the Collection Caixa Geral de Depósitos since 1988, is a highlight of the exhibition Imagem em Fuga: Júlio Pomar, Menez e Sónia Almeida curated by Sara Antónia Matos, opened at Atelier-Museu Júlio Pomar until 10 April 2022. Born into a privileged family, the self-taught artist Maria Inês da Silva Carmona Ribeiro da Fonseca began painting at the age of 26. Her life story, particularly the tragic events she endured and her travels, gradually shaped the method and the subjects of her painting. Her painting, however, is always indecipherable and unchained to the choices or trends of her time. During her life, she also created works in other media such as ceramic, tapestry, etching and drawing.
Between 1928 and 1951, she lived in Buenos Aires, Stockholm, Paris, Switzerland, Rome and Washington DC accompanying her family's diplomatic assignments. Having returned to Portugal in 1951, her first solo exhibition at the invitation of José-Augusto França at Galeria Março, in 1954, was a dazzling start. Artists Eduardo Viana and Almada Negreiros, among others, recognized the novelty of her abstract and emotional painting, evidently influenced by the School of Paris. Between 1965 and 1969, she lived in London on a scholarship offered by the Calouste Gulbenkian Foundation. Her painting did not mirror the mainstream pop taste of the time, rather it turned denser with the use of more contrasting colours and perceived shapes. In the 80s, after the untimely death of her 3 children (1976, 1977 and 1991), her painting became figurative revealing deep sentiments and images. Sculptural figures, the artist's studio, mirrors, angels, crucifixions, gardens, landscapes and still lives are some of her recurrent themes – ways to find the pictorial lyricism required to overcome personal emotions. It is during this time that we come across the painting Untitled (1986), shown in the Pinturas 1985-87 exhibition at Galeria 111, in Lisbon. In this painting, by showing her studio with its usual elements – paints, brushes, containers, unfinished painting and blank canvas –, the artist reveals a form of enclosure and intimacy. This look into herself and into the elements of the pictorial discipline, may unveil a wish for deliverance and for varying the space itself. The loose brushstrokes, rough surfaces, a space within a space and a painting within a painting build a world leading to a lightness of spirit as well as to its most devastating thoughts. This self-portrait with no portrait allows for a theatricality of the rendered settings and for the staging of tales with no narrative, only the sentiment and the will they may enclose.
In 1990 she was awarded the prestigious Pessoa Prize and an anthological exhibition of her work was presented at the Calouste Gulbenkian Foundation in Lisbon.

Hugo Dinis