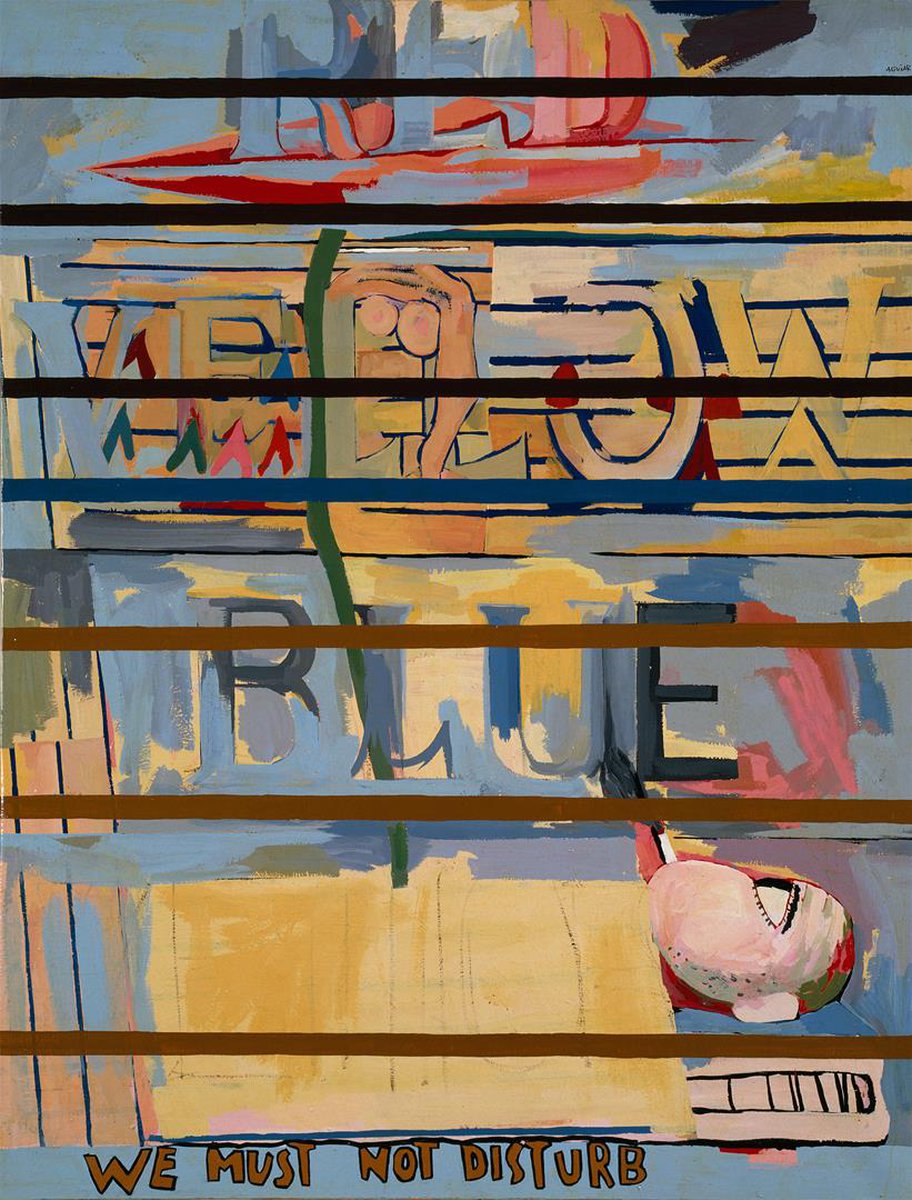 The painting Camuflagem, 1985, by Maria José Aguiar is Collection Caixa Geral de Depósitos' highlight as it is part of the exhibition Mistifório – Cycle Território #1 –, curated by Natxo Checa. The show is open at Culturgest – Porto from February 11 until 15 May 2023.
Maria José Aguiar finished the painting course at Escola Superior de Belas-Artes, Porto, in 1972 having taught there until 2009. Despite her understated public career, her painting mirrored her passion for feminist themes related to sexual and gender issues. In the 1970s her painting was drawn to Pop language. Between 1982 and 1984, she created the first series entitled Camouflage, comprised of remakes of earlier paintings "in a game of disclosure and deletion in which she quotes male artists who lead the history of art." (Laura Castro, Tudo o que eu quero: artistas portuguesas de 1900 a 2020, Calouste Gulbenkian Foundation, 2021, p.184).
In 1987, a solo exhibition of her work was presented at Galeria Nasoni, Porto, in which a second series of paintings with the same title was shown, including Camuflagem, 1985, acquired on that occasion for the Collection CGD. Bernardo Pinto de Almeida writes in the exhibition catalogue: "These writings take us back to that uncomfortable situation, to the elemental resemblance between words and things: they are word-things, pure objects that generate oddity, highlighting the magical dimension of that which is painting." By using layers of fluid paint, bright and vibrant colours, the words 'red', 'yellow' and 'blue' and the saying 'we must not disturb' sound like an irony directed to the colours they embody. "Her carefree way of drawing, while painting, makes it seem as though painting is perfectly banal." (Teresa Magalhães, Pintoras portuguesas do século XX, Leal Senado Gallery, Macau, 1990).
The relevance and irreverence of her paintings seem to mirror the way her work became invisible. Addressing issues of explicit sexuality, at a time when that would not be well received coming from a female artist, Maria José Aguiar's work paved the way for feminist issues to gain centre stage in the political arena.
Back in the old days of 1995, Sílvia Chicó wrote a feature article, Colóquio-Artes (n.º 106), on the work of Maria José Aguiar, which echoes the importance of her work: "In that mix of worlds, that recognizable assemblage of images by contemporary historical painters, the author's voice is, at once, revealed and camouflaged. A voice, dipped in so many loud voices, that sounds like a choir master in a Dada session, seeking disharmony rather than harmony in a struggle for affirmation: withdrawing but, at the same time, boosting its unavoidable camouflaged existence; as if exorcising her perceived sense of crushing, in one of the most vital and heralded phases the author has known."
Hugo Dinis
MARIA JOSÉ AGUIAR
Camuflagem
1985
Acrylic enamel on canvas
170 x 128,5 cm
Inv. 242421
Search Collection