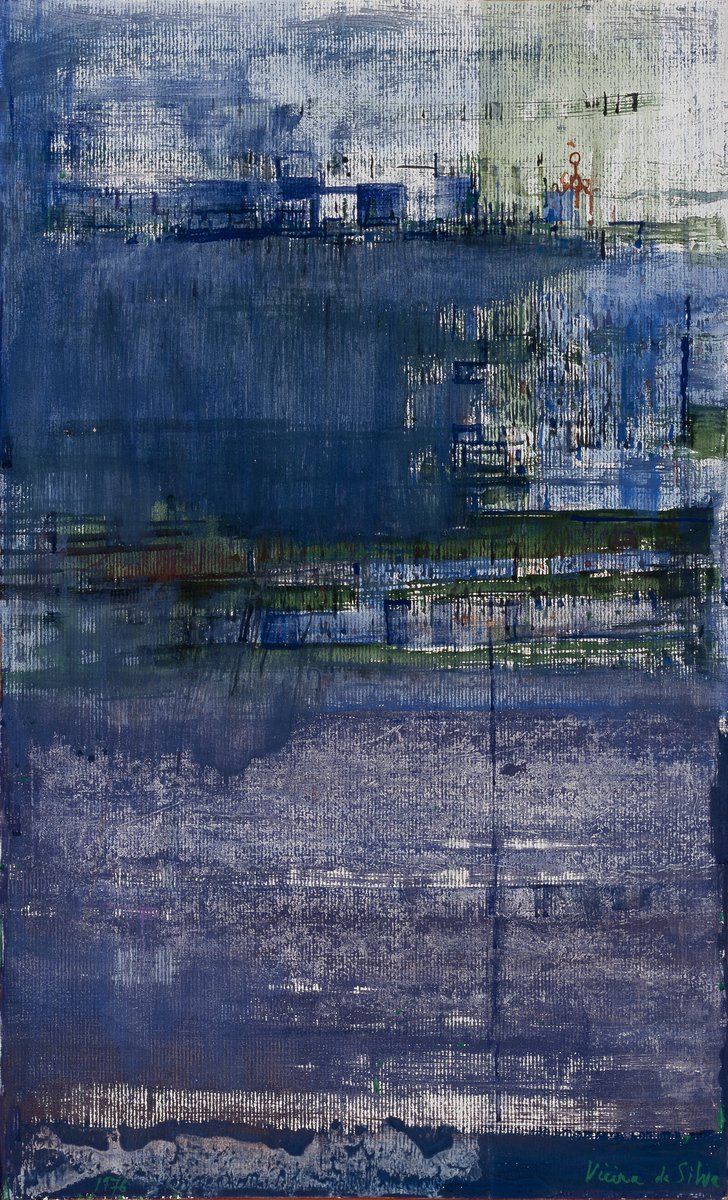 The exhibition "Thalassa! Thalassa! The Sea and the Mediterranean in the work of Sophia de Mello Breyner", curated by Santiago Macias, presents the painting Le Marais, 1976, by Maria Helena Vieira da Silva, which belongs to the Collection Caixa Geral de Depósitos. The show is opened at the National Pantheon, Lisbon, from 11 November 2022 to 23 April 2023.
Throughout 5 decades, the artist's work swung freely between naive and expressive figuration, and geometric and abstract art. The painting Le Marais, 1976, falls within this last frame of ​​pictorial representation. The textured surface underlines a poetic abstract spatial composition. Through limited planes of colour and recurring and intense strokes, this three-dimensional plot unveils a language that is open and sentimental, and full of warm ambiguous sensitivity. The abstract space represented is the result of a thorough geometric composition, which builds a fragile and labyrinthine reality. Imbued in this enigmatic spirit, the artist stretched her creativity to works of public art, tapestries, tiles, ceramics, prints, which testify to the strength of her dedication to artistic creation.
Born into a wealthy family, she moved to Paris in 1928 to study at the Académie de la Grande Chaumière where she met Árpád Szenes (Budapest, Hungary, 1897 – Paris, France, 1985), a Jewish Hungarian painter with whom she married in 1930. The couple moved to Lisbon in the outbreak of the War in 1939 and later to Brazil, in that same year, settling in Rio de Janeiro until 1947. On their return to Paris, both artists acquired French citizenship in 1956. Important anthological and retrospective exhibitions of Vieira da Silva's work were held during her lifetime in venues such as the National Museum of Modern Art, Paris, 1969-70; the Calouste Gulbenkian Museum, Lisbon, and the Grand Palais, Paris, in 1988; and the Juan March Foundation, Madrid, in 1991. An internationally renowned artist, her works feature in many important collections around the world, including: the Museum of Modern Art in New York; the Solomon R. Guggenheim Museum, New York; Tate, London; the Stedelijk Museum, Amsterdam; and the Centre Georges Pompidou, Paris.
In 1960 and 1962, she was awarded the Ordre des Arts et des Lettres by the French Government. Later, in 1966, she became the first woman to receive the Grand Prix National des Arts, and in 1979, she became Dame of the Ordre national de la Légion d'honneur. In 1977 she was awarded the Grand Cross of the Military Order of Saint James of the Sword and in 1988 the Grand Cross of the Order of Liberty. She also received the Medals of the City of Lisbon and Porto by the city councils. The Árpád Szenes-Vieira da Silva Foundation was founded in Lisbon in 1990 and opened to the public in 1994. That same year, the catalogue raisonné and monograph of her work was published by Skira, under the direction of Guy Weelen and Jean-François Jaeger.
Hugo Dinis
MARIA HELENA VIEIRA DA SILVA
Le Marais
1976
Tempera on paper
65 x 39 cm
Inv. 228131
Search Collection