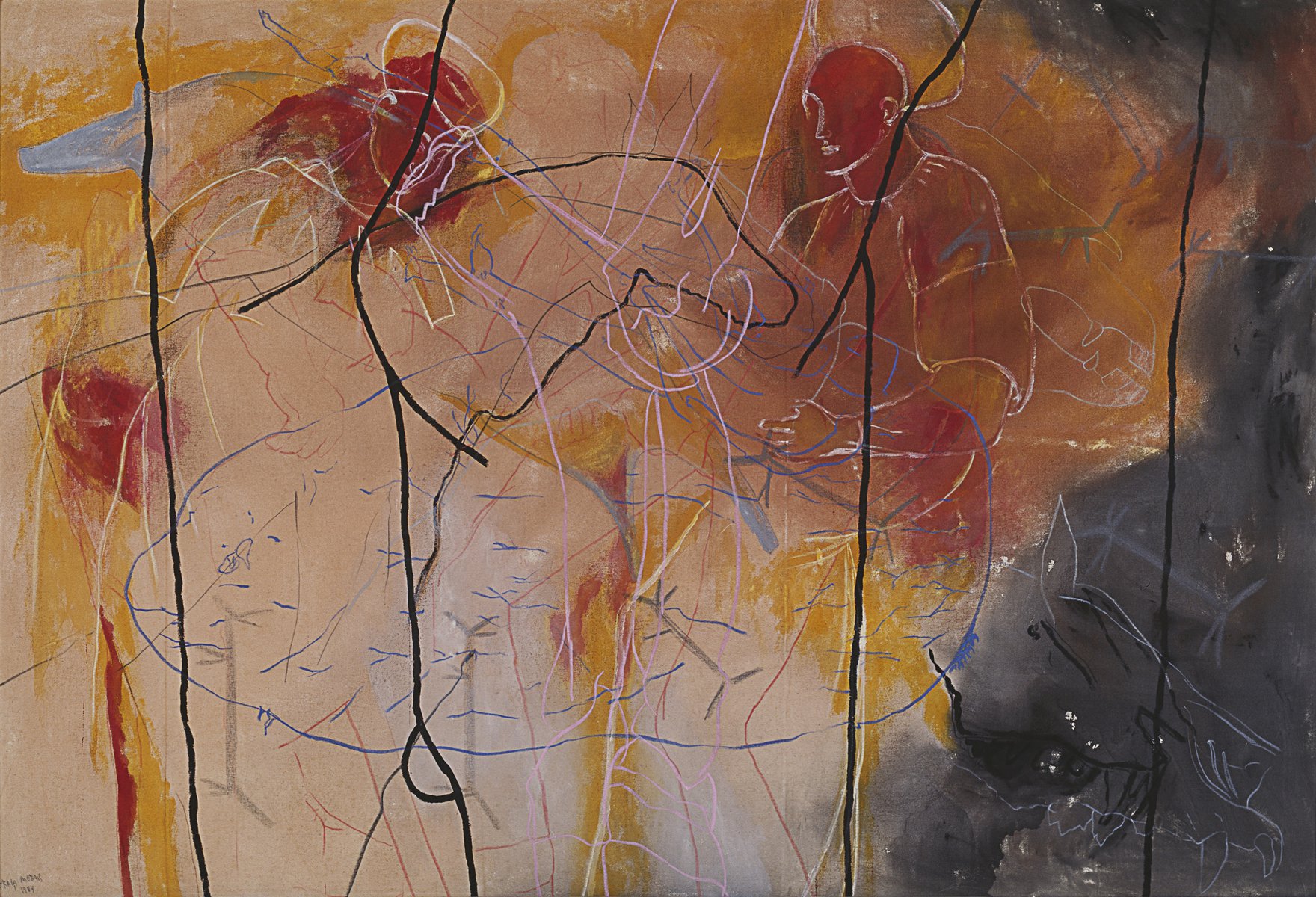 The painting Mapas e o Espírito da Oliveira (1984) by Graça Morais, a work that belongs to the Collection Caixa Geral de Depósitos, is currently on loan to the exhibition Mapas da Terra e do Tempo, curated by Jorge da Costa. The exhibition can be visited at Museu do Côa (Vila Nova de Foz Côa) from 3 June 2022 until 15 January 2023.
The early life and popular traditions of an artist born in a village in the district of Bragança, Trás-os-Montes, who lived in Mozambique during part of her childhood (1957 to 1958), became the basis of the inspiration and source material that for over 5 decades galvanized and accompanied her artistic journey. By portraying in warm colours, intense textures and striking features the people, especially women, the arid and rural landscapes, the wild and domestic animals and the native flora, her works seem to translate a very personal unique vision of her world.
Her aesthetic concerns are mirrored, and amplified, in Mapas e o Espírito da Oliveira, 1984, a series of works of monumental dimensions, by "rendering her view on an imaginary of deep oral and mythical fantasy, where the beautiful can give way to the hideous, the body to the idea, the landscape to the itinerary with an outline of rare confidence and intense lyrical expression." (Fernando de Azevedo,
1987). "A dense array of forms, the growing formation of a web of lines and colours filling the writing surface with signs began to appear on large surfaces. This allowed for the un-covering of successive levels of understanding, to which the technique of superimposition constantly lends new clues of recognition." (António Mega Ferreira, 1985). By valuing the thick strong lines of her drawings focusing
on intense pictorial surfaces, the artist strengthens her emotional approach to her comfort zone. "When she strolls through her home village the landscape turns into a map of her childhood memories." (Rui Mario Gonçalves, 1997) Graça Morais completed the Painting course at Escola Superior de Belas Artes, Porto, in 1971. She lived in Paris between 1976 and 1979 on a scholarship from the Calouste Gulbenkian Foundation. She represented Portugal at the XVII Bienal de São Paulo, Brazil in 1984. She was awarded with the Degree
of Grand Officer of the Order of Prince Henry by President Jorge Sampaio in 1997. The Centro de Arte Contemporânea Graça Morais (CACGM) was inaugurated in Bragança in 2008. In 2019, she was presented with the Medal of Cultural Merit by Graça Fonseca, Minister of Culture, on behalf of the Portuguese Government.
Hugo Dinis
Graça Morais
Mapas e o espírito da oliveira - Série
1984
Acrylic, pastel and charcoal on canvas
140 x 207 cm
Inv. 274293
Search Collection