Marlene Monteiro Freitas
Evil – Divine Inebriation
Marlene Monteiro Freitas
Evil – Divine Inebriation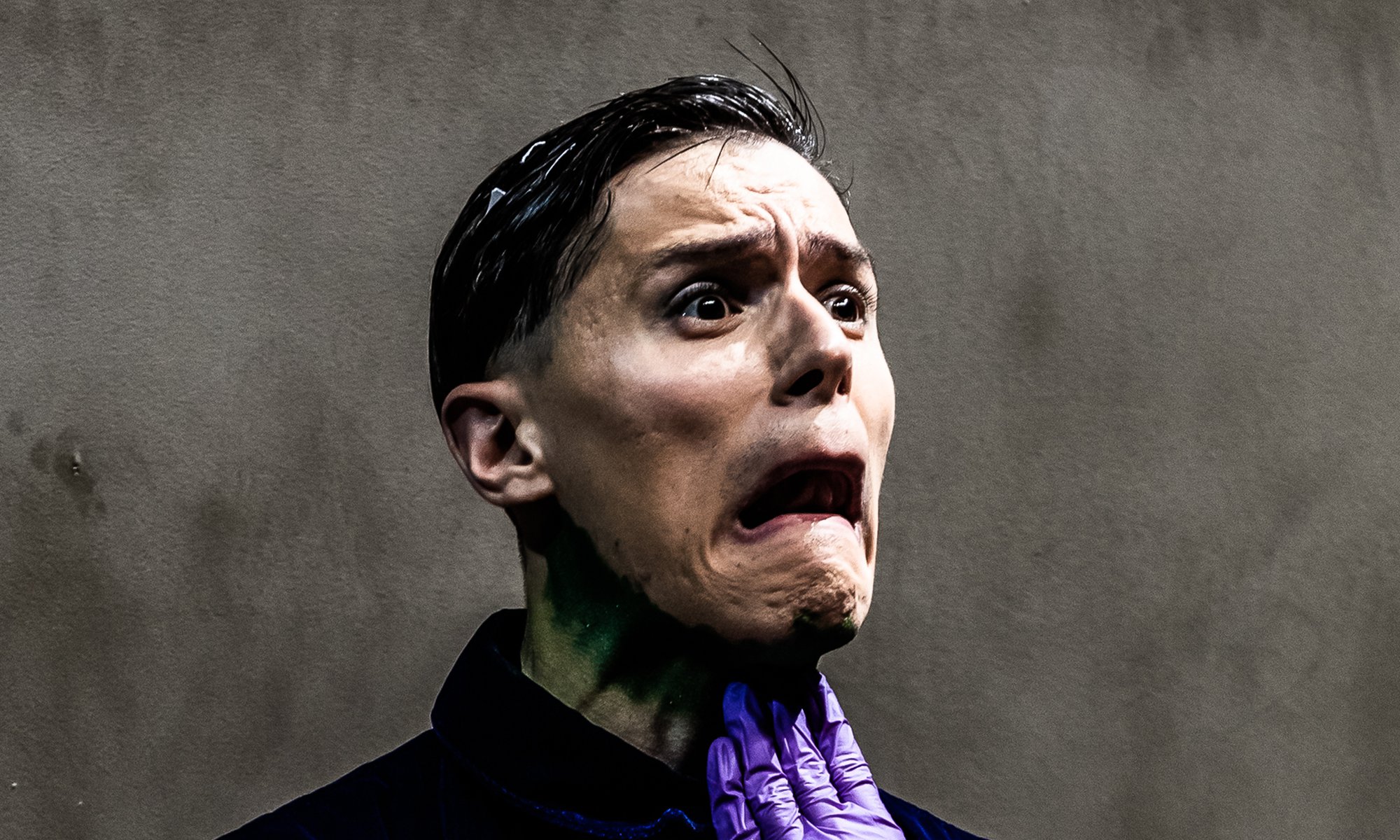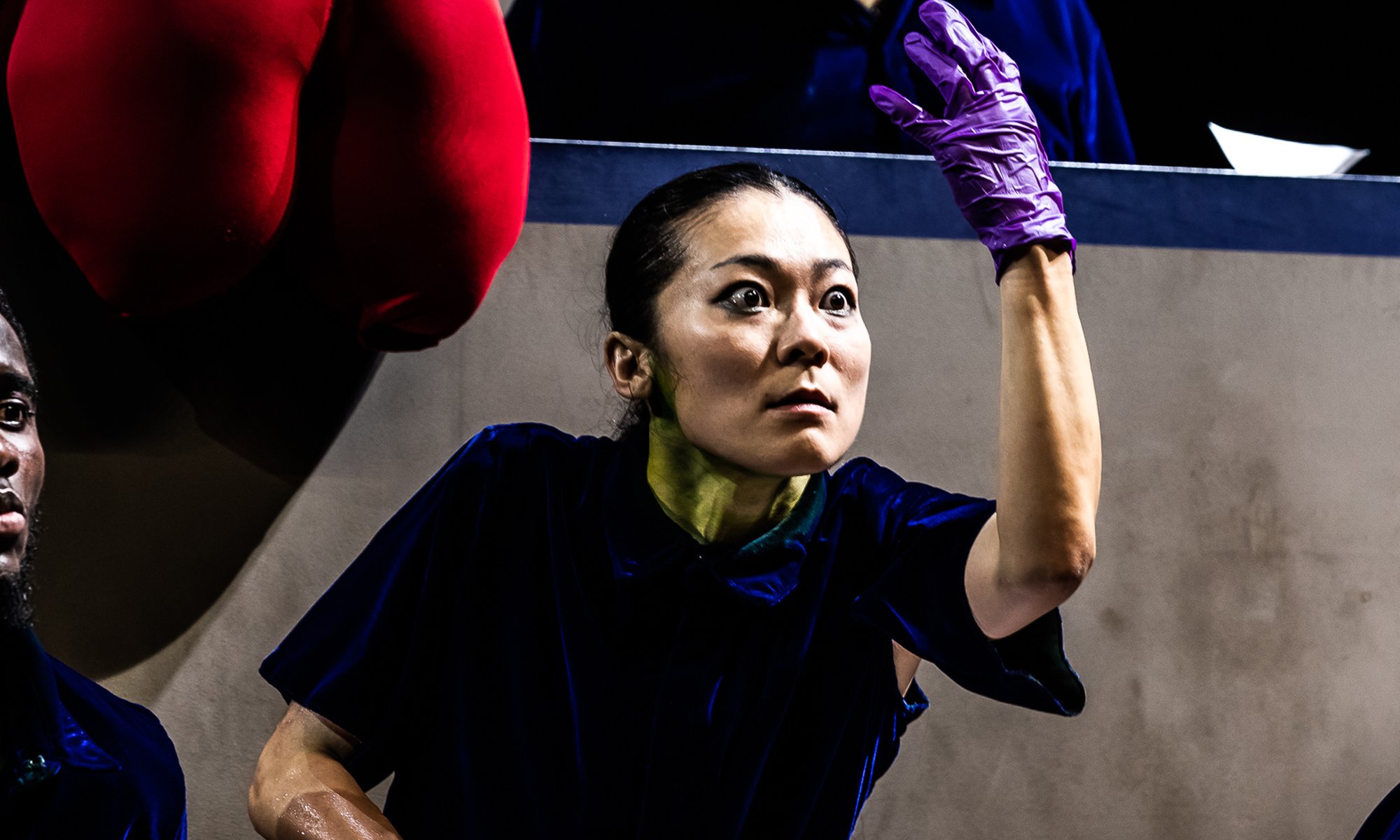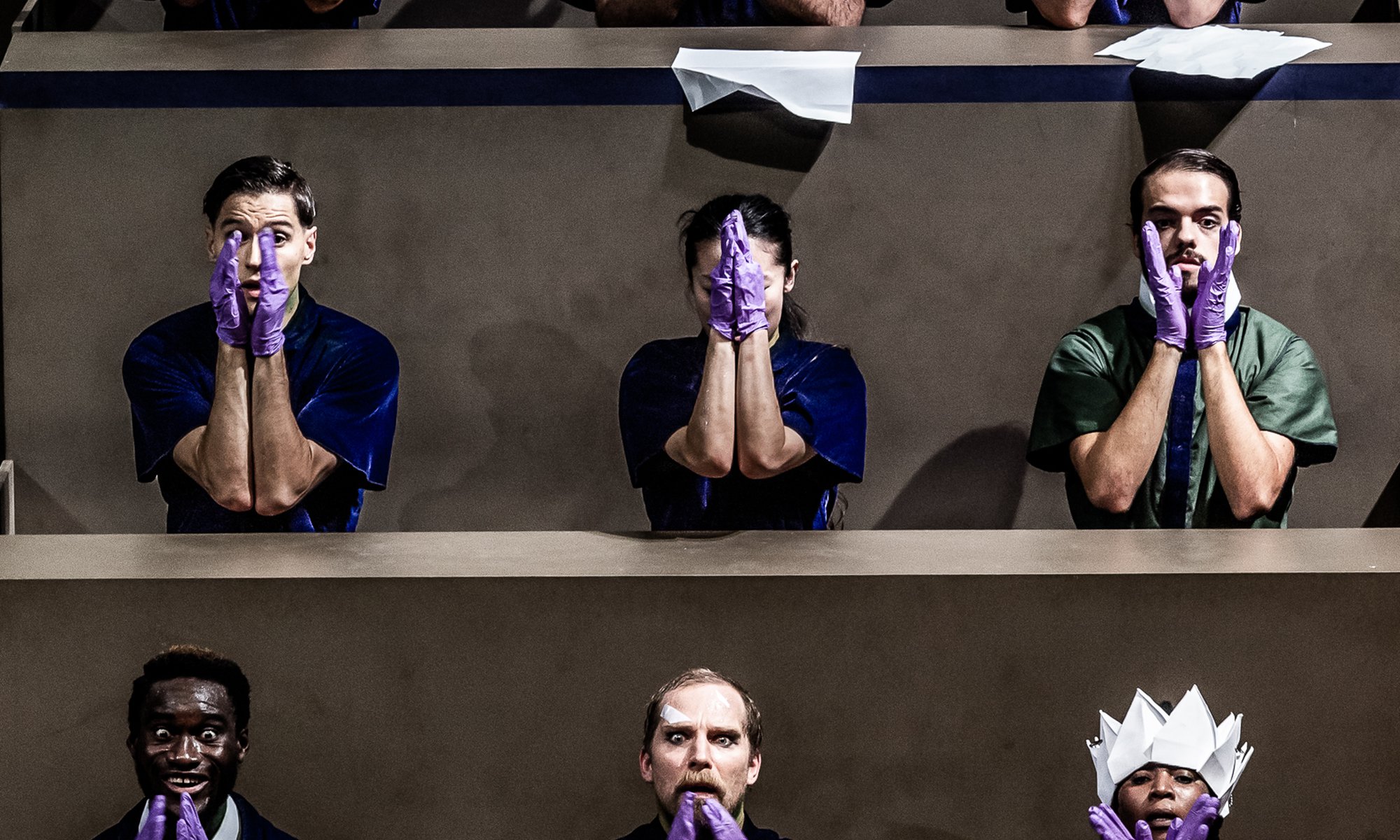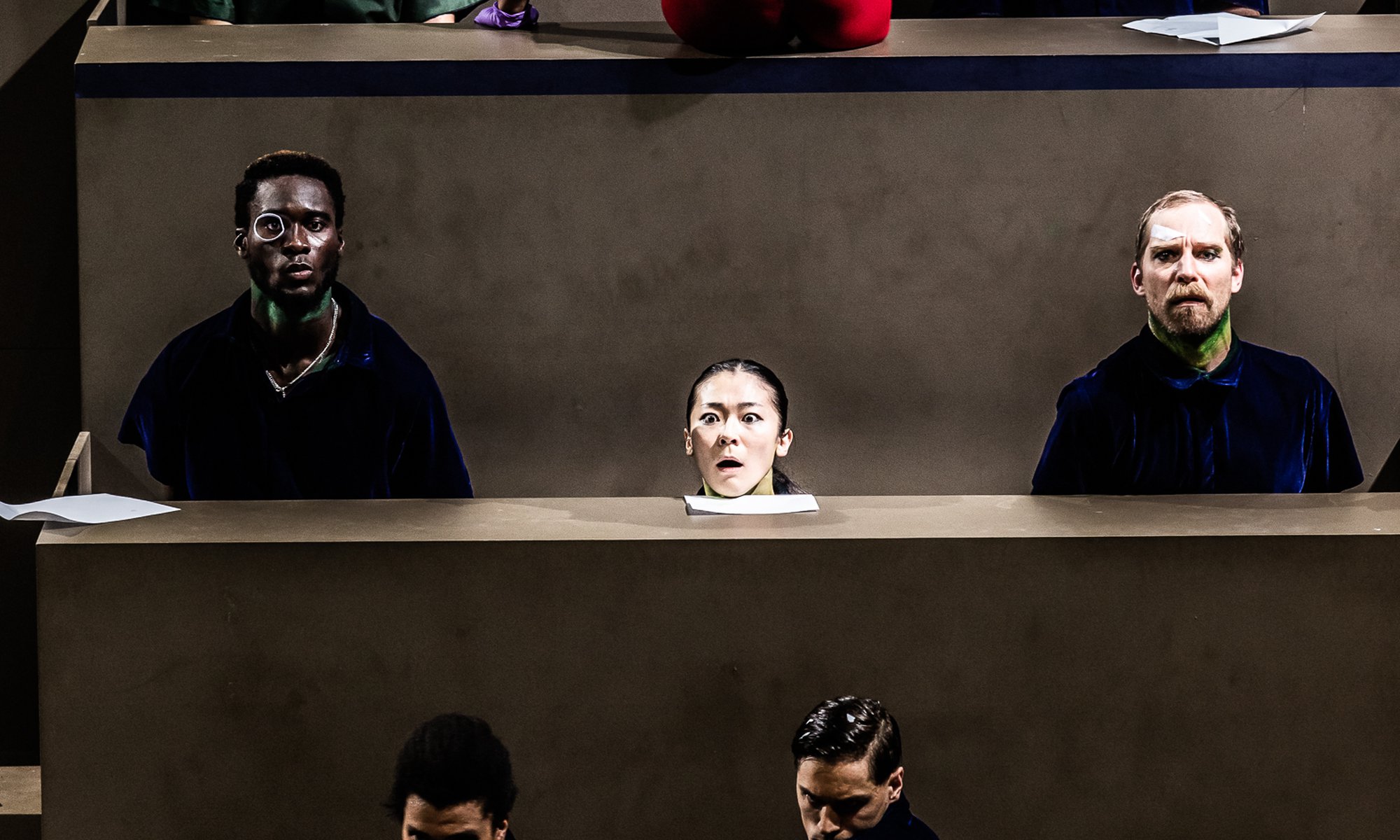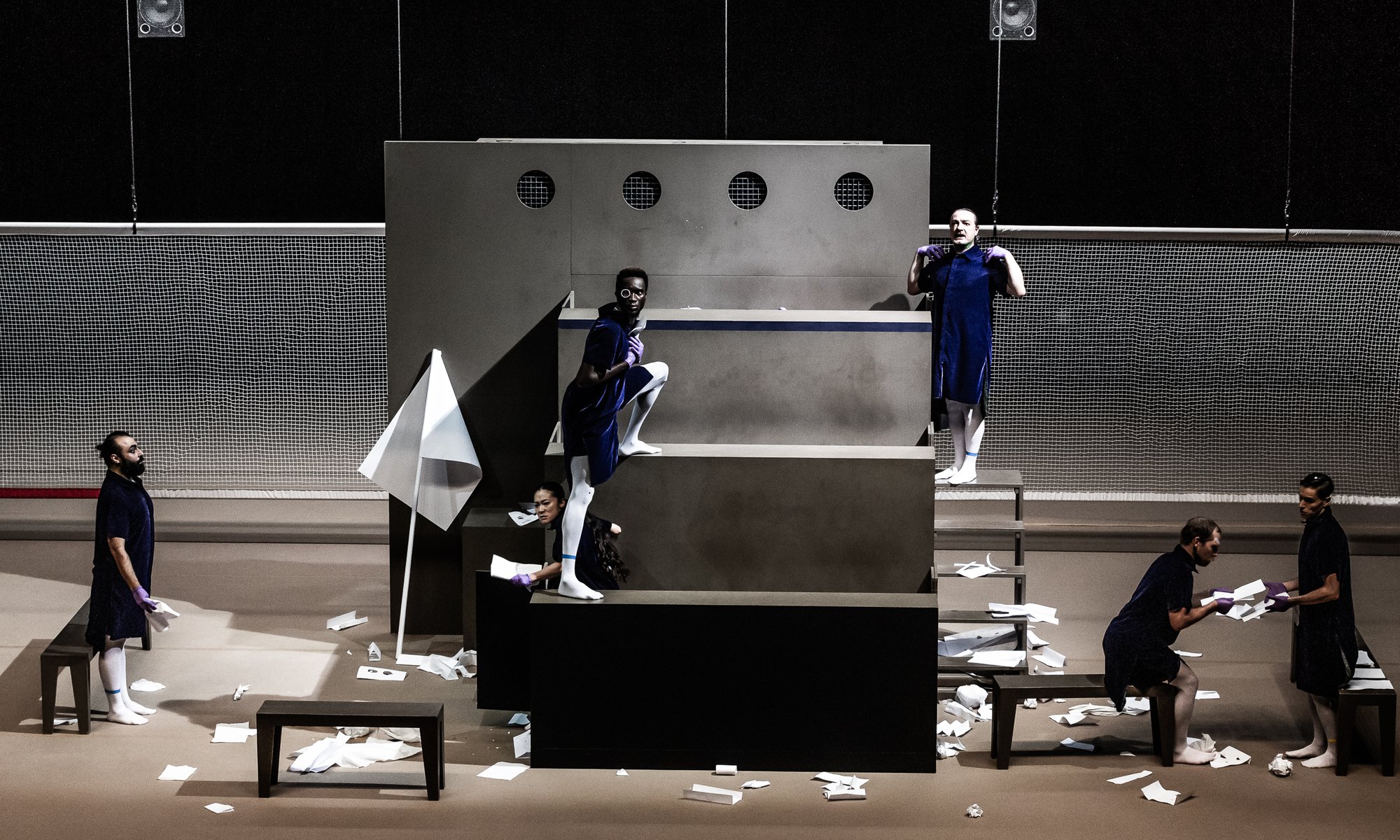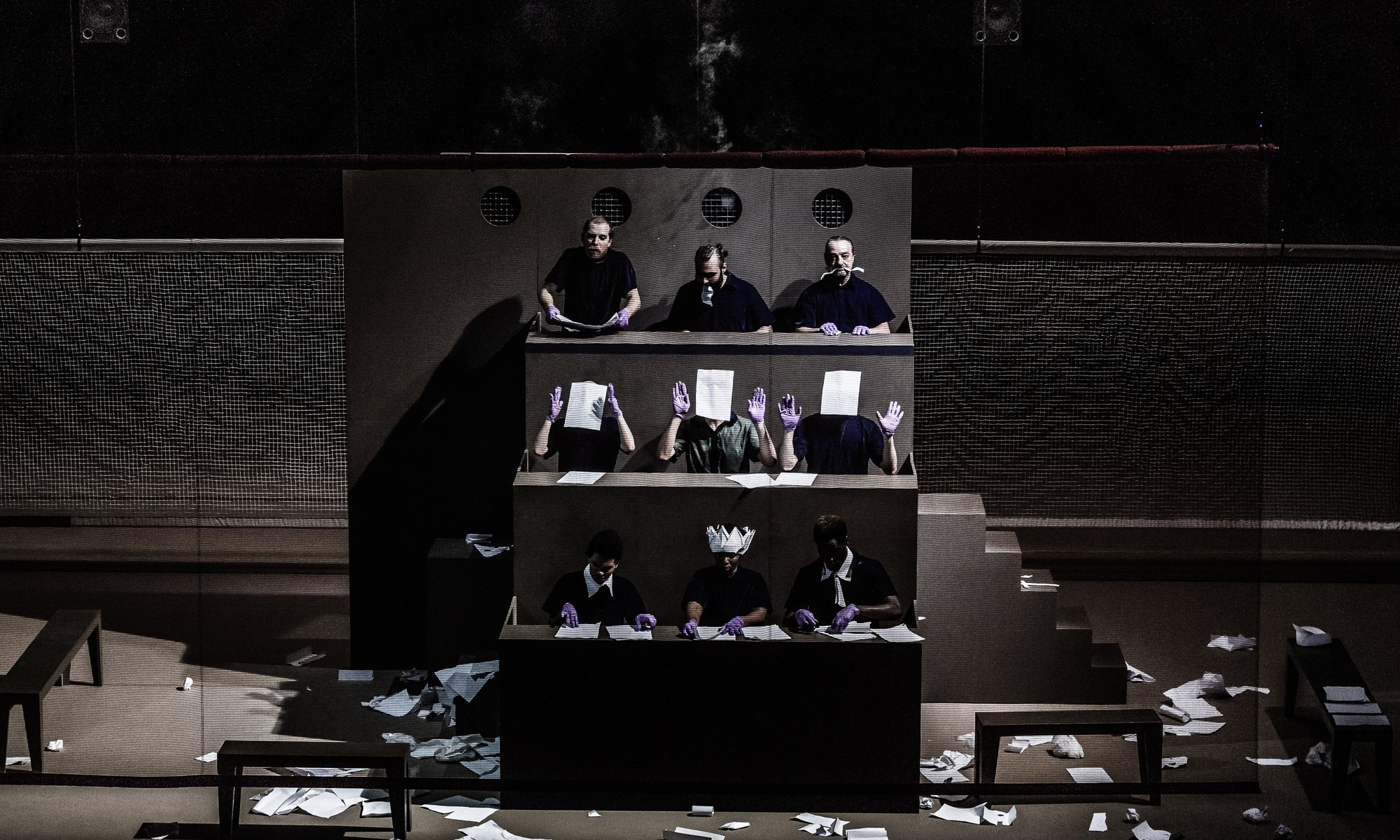 "Pure Evil, yet heavenly illustrated ... A highlight!" in Süddeutsche Zeitung
To explore the various shapes of evil, a group drowning in a sea of paper transforms into a choir on a tribune. The title of Marlene Freitas' performance makes multiple references to the ambivalence of evil. Evil might mean unease, discomfort, pain, suffering, agony, sorrow, torment, lack, horror and also evil. Meanwhile, Divine exaltation marks evil as a state of divine delusion, of dionysian ecstasy.
Evil takes multiple shapes. It appears as a determining force in a large number of stories, and the theatre has long been the site where it is revealed and displayed. For some, the experience of the abyss of evil is a prerequisite for art. George Bataille places evil and art in close proximity to each other as two forces opposing the lawful world of rational calculation. He sees children as being committed to evil by revolting against an adult world of inhibiting conventions. Divine exaltation as a transformative insurrection of Evil against Good, as an invitation to break with order, to escape normalizations and to deviate from the script.
Choreographer Marlene Monteiro Freitas creates opulent and poetic worlds. She is inspired by mythological motifs while playing with references from high and pop culture, for instance in her works Of Ivory and Flesh - Statues also Suffer and Bacantes - Prelude to a Purge.
Martin Valdés-Stauber
© Peter Hönnemann.
24 SEP 2020
THU 21:00
25 SEP 2020
FRI 21:00
26 SEP 2020
SAT 19:00
Sold out
Emílio Rui Vilar Auditorium
16€ (
discounts
)
Duration 90 min
M/6
Biografia Marlene Monteiro Freitas
Marlene Monteiro Freitas (Cape Verde, 1979) studied dance at P.A.R.T.S. in Brussels, in Lisbon at the Escola Superior de Dança and at the Fundação Calouste Gulbenkian. In her native country, Cape Verde, she co-founded the dance group Compass and collaborates with musician Vasco Martins. She worked with Emmanuelle Huynh, Loïc Touzé, Tânia Carvalho, Boris Charmatz, among others. Her creations include: Bacchae - Prelude to a Purge (2017), Jaguar (2015), with Andreas Merk, of ivory and flesh - statues also suffer (2014), Paradise - private collection (2012-13), (M)imosa, co-created with Trajal Harrell, François Chaignaud and Cecilia Bengolea (2011), Guintche (2010), A Seriedade do Animal (2009-10), Uns e Outros (2008), A Improbabilidade da Certeza (2006), Larvar (2006), Primeira Impressão (2005). The common denominator of these works is openness, impurity and intensity. In 2017 Portuguese Society of Authors (SPA), awarded Jaguar, the prize for the best choreography and in the same year she was distinguished by the government of Cape Verde for her cultural achievement. In 2018 created the piece Canine Jaunâtre 3 for Batsheva Dance Company. Still in 2018 La Biennale di Venezia has awarded MMF with the Silver Lion for Dance. She has an ongoing collaboration with O Espaço do Tempo (PT). She is the co-founder of P.OR.K, her production structure in Lisbon (PT).
Co-funded by the Creative Europe Programme of the European Union, following ACT - Art, Climate, Transition project

CHOREOGRAPHY
Marlene Monteiro Freitas
assistant rehearsals
Lander Patrick de Andrade
WITH
Andreas Merk, Betty Tchomanga, Francisco Rolo, Henri "Cookie" Lesguillier, Hsin-Yi Hsiang, Joãozinho da Costa, Mariana Tembe, Majd Feddah, Miguel Filipe
LIGHT DESIGN AND SOUND
Yannick Fouassier
SUPPORT
Miguel Figueira
STAGE MANAGER
André Calado
SOUND DESIGN
Rui Dâmaso
RESEARCH
Marlene Monteiro Freitas, João Francisco Figueira
DRAMATURGY
Martin Valdés-Stauber
COSTUMES
Marisa Escaleira
PRODUCTION
P.OR.K (Bruna Antonelli, Sandra Azevedo, Soraia Gonçalves - Lisboa), Münchner Kammerspiele (Munich)
PROMOTION
Key Performance (Stockholm)
CO-PRODUCTION
Biennale de la danse de Lyon 2020 and Pôle européen de création – Ministère de la Culture/Maison de la Danse en soutien à la Biennale de la danse de Lyon 2020, HAU Hebbel am Ufer (Berlim), Kunstenfestivaldesarts (Bruxelas), International Summer Festival Kampnägel (Hamburgo), Künstlerhaus Mousonturm (Frankfurt), Les Spectacles Vivants/Centre Pompidou, NEXT festival (Eurometropolis Lille, Kortrijk, Tournai & Valenciennes), Ruhrtriennale (Bochum); TANDEM Scène nationale (Douai – Arras); Teatro Municipal do Porto, Theater Freiburg, Wiener Festwochen (Viena), Culturgest
SUPPORT
Câmara Municipal de Lisboa, Dançando com a diferença (Funchal), Fabbrica Europa|PARC- Performing Arts Research Center (Florença, Itália), La Gare – Fabrique des arts en mouvement (Le Relecq-Kerhuon), Polo Cultural Gaivotas | Boavista (Lisboa), Reykjavík Dance Festival (Reykjavík)
P.O.R.K. is a project supported by the Ministry of Culture / Directorate-General for the Arts

Co-funded by the Creative Europe Programme of the European Union, following ACT — Art, Climate, Transition project